We Provide Electrical Services For:
Thank you for voting Axis Electric Top of the Valley
Best of 2023 - Best Electrician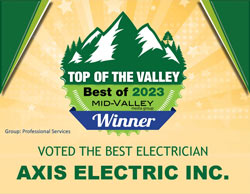 What Our Customers Are Saying:

Feb - 2020
"To all at Axis,
Thank you for your outstanding support, service, and workmanship. Every person I encountered from your company was prompt, courteous, and a professional. I will be recommending you to friend and family.

Best Regards"
Mark B.
Albany, OR

Feb - 2020
"Thanks to Mark & Brian. They did a great job running the new line from the panel box. I am so glad I can doung on Axis Electric to provide professional service. Many thanks."
Greg B.
Philomath, OR

Nov - 2019
"Every time I have contracted or hired Axis Electric whether for a job Fitzpatrick Painting and Construction is working on or a personal project they are quick, helpful and very professional. They have done work on our office building, our tiny homes, and other countless projects. We know when we call Axis Electric they won't disappoint."
Tim F.
Albany, OR

Oct - 2018
"Axis Electric has come out to our business and to my bosses home as well. They are prompt, very professional and do a great job, all at a reasonable price! We call them for all our electric work both business and personal!"
Robin S
Albany, OR

Oct - 2018
"We use Axis Electric exclusively for all of our commercial needs. We are very pleased with quality of service and work. Highly recommended."
John B.
Corvallis, OR

Oct - 2018
"AXIS needs a 10 star option! I was privileged to meet two of the guys from the company, Mike and Mark. Mike eased my apprehension about what could be done and Mark made it happen. I can't thank you enough! Peggy you were pretty great too! I highly recommend AXIS to anyone and everyone."
Andrea S,
Albany, OR

Oct - 2018
"Shawn and his team have always gone above and beyond the call of duty! Used them dozens of times, always a good decision! Top notch, A Grade company!"
Brian P.
Albany, OR